RETIRED BRENTWOOD TEACHER PUBLISHES 6TH POETRY BOOK
POSTED 7-1-19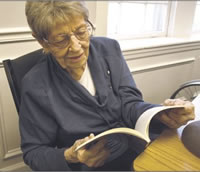 Josephine Geluso, a retired Physical Education Teacher (Hemlock Park), published her 6th book of poetry. She recently had a book signing at the Oyster Bay Public Library where she was interviewed by a reporter for The Long Islander. Click on the following link to view the article "97-Year-Old Poet Brings Readers Back in Time " that appeared in the Thursday, April 25, 2019 edition of The Long Islander.
You can also view the article "Jo Geluso Recognized For Her Poetry" on the 2016 Announcements Page of the ROBS website.
---
SAD SHARING
POSTED 7/21/19
Helen Paparatto, former Special Ed TA and mother of ROBS member, Tina Schneyer, passed away on July 20, 2019. She will be waked at: Maloney Funeral Home, 203 Main Street, Center Moriches, N.Y. 11934.
Viewing will be on Tuesday, July 23rd from 2-4 and 7-9. Funeral is Wednesday morning.
Condolences can be sent to:
Tina Schneyer and Family
14 Long Road, Manorville, N.Y.11949,
---
SAD SHARING
POSTED 8/3/19

Carmen Roldan's mother passed away and will be waked in Brooklyn. Carmen is currently the treasurer of ROBS and retired in 2013 from the Administration Building.
Condolences can be sent to Carmen at 49 Linda Lane, North Babylon, NY 11703.
---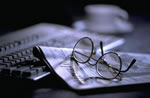 Why did we do it?
What was our purpose in taking on such an open ended "History Project"; for which we evolved a script of questions and got answers from over 150 subjects for two decades?
We couldn't answer the question in 1994 when people would ask "What are you going to do with the interviews?" All we could say was that for educational purposes we had to document our record now or lose the chance to preserve so many poignant accounts, funny stories and touching tales told by exemplary educators. We knew these dedicated public servants might shortly, for reasons yet unknown, be leaving Brentwood for good.
So, we decided to let time sort out the details. We began scheduling appointments. W
e asked questions and listened saving for generations the essence of what it meant to have been an educator or employed, in this large public school system during the second half of the 20th century. Brentwood remains an exemplar to all others; a diverse microcosm of America reflecting 124 districts on Long Island while simultaneously resembling thousands across the U.S. We've accomplished something here to be proud of. Whether we were interviewed or not, ours is a claim of service that few professionals in the State of New York or elsewhere have positioned themselves to share in the way we have.
INITIALLY the practice of sitting with a subject for an hour and giving them a hundred percent focused attention seemed somewhat daunting to a number of friends and colleagues. So much so in fact that many declined our repeated invitations to speak with us as they left careers or retired from full employment. Despite all assurances that we were not about investigative journalism or invading privacy, they deferred. Now, twenty years after we began, some are saying they may be ready. "Better late than never" we say. However, to all among you who were willing to share not only your classroom experiences and personal stories, but precious memories from your lives along with your fondest hopes for the future, we say "Thanks". Thanks for allowing us to continue the process by paying it forward as we share these interviews with the Brentwood community and countless professionals and researchers near and far. Through an acceptance of ROBS offer of collaboration with Archivist Dr. Geri Solomon and The Long Island Studies Institute at Hofstra University our History Project lives on in academia as well as in the collection of the Brentwood Public Library, thanks to Director, Thomas A. Tarantowicz.
You can enjoy unlimited visits to www.robsny.org where you can watch and listen to segments from featured Interviews in the ROBS History Project Section on our Announcements Page each month. Return here to listen and learn again and again.
---
THIS MONTH'S FEATURED HISTORY PROJECT
INTERVIEW:



Nicholas Siciliano


H.S. Social Studies Teacher
Interviewed 7/22/1999
Nick was named for his paternal grandfather Nicholas. Growing into adulthood he became first, Nicky and then Nick. His confirmation name was Anthony but the only time it was ever used in an official capacity was when he filed for Social Security. Other than that he never used it or had a nick name. When he searched for the origin of his last name he found like many others before him that it was rooted in family geography.
His father had immigrated to the United States during the 1920's and he retains all documentation including the name of the ship on which he arrived. He came with his father and brother and went to work immediately, then sending back word to his mother and sister to follow the family to America. He began as a day laborer advancing to become a welder and joining the union. He remained a welder for the balance of his life.
They all arrived from the area south of Naples a mostly poor section of the country when the economy there was weak. That became his primary reason for emigrating. It had been pretty much the same on his mother's side of the family except for the fact that his mothers' parents accompanied their children when they came to the States. The family's last name was DiRiggi. His mother, as it happened, was born here and thus became a legal citizen of the United States. They settled in Scranton, and northeastern Pennsylvania where they saw opportunity for unskilled labor in the coal mining industry. Once there they found work on the railroad and remained with Delaware Lackawanna
His father had settled on Long Island, N.Y. but also had relatives in Scranton, PA. It was there he met the girl who would become his wife and the mother of his son. Marrying in Pennsylvania they chose to come to L.I. and settle in Mineola where Nick was born in 1937.
One of his earliest memories was of a visit by his aunt and several of his cousins, to their home in Mineola. He thinks it may have been on a weekend for he recalls there being a plane crash adjacent to Hofstra College at Mitchell Field and close enough that he recalls hearing the sound. His aunt thought the war had come to the States from the way she carried on thinking the USA was under attack. These were war jitters. He also remembered his second grade teacher giving students a printed notice to take home to parents at the end of the month informing them that they were being transferred to another school building for the balance of the war. The building was being taken over by the government for the manufacture of airplane parts for the war. The building was soon closed and they moved to another location. Mineola was the seat of Nassau County government but it remained largely provincial.
He remembers the Mineola Fair as being an annual County event with produce competitions and livestock showcasing complete with blue ribbon awards. He had flashes of memory about indoor roller skating with his own or rented skates and other kids on an inlaid hardwood floor while a huge manually played pipe organ accompanied skaters circling around the giant Mineola Rink. Schenck provided Public bus transportation East and West on Jericho Turnpike.
Nick was living within the borders of the Town of Smithtown in the Hamlet of Kings Park. Thinking about relocating even though alone, he'd not yet decided what he wanted to do. His mother had died the previous year and his brother Andrew, named after his father, had died seven years before that. His sister Ann someone with whom he had limited contact, was still on Long Island. She had two sons. The youngest was Chris, who was planning to marry later that year. Steven, her other son was already in his forties. Nick had been the middle child in his own birth order.

Reflecting upon other paths he might have pursued had he chosen not to teach, Nick shared his early interest in acting, in becoming a writer, working for the State Department and entering the foreign service. He ultimately decided on public service. As an educator in love with the subject areas of History and Social Studies,- he was able to include most if not all other paths to which he'd initially given consideration.
Thinking back on his earliest experiences Nick concluded that his mother really enjoyed the cleaning and cooking she did for their family. It also appeared to him that his father enjoyed his numerous wood projects. He was good at fabricating; at making things with his hands. Thinking back, his earliest memories did not include him and his father spending a lot of their time together since his father always seemed to be working. There happened to be other significant adult influencers in his life; people he looked up to and admired, like several teachers he had. Also, in the various jobs he had taken on he met people who had opened the world of experience to him by teaching him life lessons. There was his first boss in the Pharmacy in which he worked who had shared his love of opera and impressed Nick with a passion for Italian operas that he nurtured throughout his life. This fellow wasn't even Italian but had it not been for him Nick might not have awakened in himself, his passion for serious music and culture. Acknowledging the role teachers can play in the lives of young people's personality development there were several teachers in Junior High and High School who took an interest in him and instilled the desire to become a positive influence in the lives of other young people. He had an eighth grade Social Studies teacher, Mrs. Converse for example, who encouraged him to compete in a Citizenship contest which, with a great deal of help from her he went on to win. It was an award presented in 1945 from Williston Park High School before the entire assembled student body. Today, that community is part of the Herricks District. Nick was already becoming a serious reader and given to enjoying works of fiction. He was becoming an introspective observer of the world around him and became the first member of his family to achieve higher education. As a consequence of winning the competition he became focused upon foreign service and therein registered to attend The Latin American Institute on 45th Street, where he attended classes for a year.
After attending the Institute and with a letter of recommendation from another important teacher in his life, Mr. Goostry who had served during the Korean Conflict, he switched to a four year degree program in 1956 at Hofstra College. It was during that time he redirected his career to becoming an educator and Social Studies teacher.
All his prior experience specializing in Latin American History, conversational Spanish and Grammar was about to stand him in good stead as he arrived in Brentwood in 1963. He was assigned to teach a Seventh Grade Spanish Class for the first half year replacing a teacher who had left. unexpectedly
Like most teens at the time, Nick had chores to do at home while attending high school. His responsibilities included certain kinds of shopping and lawn care. He had an early part time job that he hated, delivering L.I. Newsday to homes in the neighborhood. He felt pressured by management to bring in additional subscriptions. He also worked at a neighborhood Pharmacy when he was in high school and while attending college. He began working at a second pharmacy in Westbury. He also worked for a while at Bohacks Supermarket before it closed its doors.
Nick considered himself a "news junkie". He read everything that came before him in the way of world events. He remembered well the period of duck and cover, atomic bomb testing during the Cold War, and threats posed by Communism or The Red Menace. He talked about an English teacher he once had that was personally damaged by the perceived threat during the controversy surrounding Julius and Ethyl Rosenberg when his teaching contract was pulled and he was labeled a "Pinko" because he was a Liberal. He remembered the loyalty oaths required by Brentwood's administration of all district employees and how the depression and its' consequences effected his families feelings of personal security. He always enjoyed living on Long Island in the temperate zone where the four seasons exist. His favorites have always been Fall and Winter, disliking as he did, the oppressive heat of summer. He likes getting an early start on the day but also appreciates occasionally staying up late. The preponderance of his graduate work was done at Hofstra University. He spoke of having had a job for a while at Idle Wild Airport working for a small Mexican Airline prior to being drafted into the military. They had but two flights per day – to and from Mexico and he was learning all facets of the operation that would have served him well had he remained in the industry, but he didn't. He joined the U.S. Army instead for two years in 1961 until 1963, was stationed in Fort Dix, New Jersey and Jackson, South Carolina.
His favorite subjects in school were English and Social Studies. His least favorite subjects were Science and Math. Then in March of 1963 he learned about an opening in North Junior High in Brentwood from a frat brother and college friend, created by a teacher who had been let go. When he spoke with John Maroka who interviewed him for the position, he told Nick, "If you can last a week, if you want it the job is yours". He earned $5,200 or $5,300 his first year.
He remembers being impressed by the presence in the District of the Ford Foundation. That included people like Dr. Eugene Hoyt, Dr. Joseph Dionne, Dr. Raymond Scheele, Dr. Raymond Fournier and Vincent Presno. Idealism and a sense of promise abounded, It was before the union movement and during the tenure of Professional Associations. Such was the belief that a good negotiation team accompanied by a cooperative spirit could prevail. Such an approach was seen as a better alternative than a blue collar working class mentality of the labor union. Most people felt that way. Milton K. Siler Jr. was the Social Studies Department Chairman and teachers were encouraged to get involved in the process by becoming active in various student activities. Some of Nick's involvements included becoming Advisor to the Senior Class, the Junior Frolics, Student Counsel, orchestrating the Homecoming Parade. This was during a period of controversy surrounding dress codes; skirt length and boys wearing shirts outside of pants. After his thirty years Nick was asked about his favorite years and he pointed to those at the beginning and those at the end of his service.



How did he define his purpose for performing as a teacher all those thirty years? "Hopefully, to educate and prepare them for success in their lives by doing whatever he could, whenever he could, to help them."
Nick exclaimed he has "little patience for stupidity in any and all of its forms" It makes him angry. I was suddenly reminded of the lyric to an old tune while he replied to my next question, "What makes you laugh?". "Life itself!" he said, as I thought to myself, "What a healthy attitude he has". "Life is just a bowl of cherries. Don't take it serious. It's so mysterious."
It was either during his first or second year that he became a Delegate to the (BTA) Brentwood Teachers Association in 1963 or 1964. Shortly thereafter he was elected member of the Executive Board of the organization. Though energetic he admitted to being politically naïve and knowing as little about the actual process of union negotiation as he did. He had believed he would be able to make a contribution to the betterment of the teachers in the organization. In all honesty he admitted to lacking the political astuteness required in that moment to do the job and to do it well. What he didn't and couldn't understand was the selfish often self serving motivation he encountered time and time again. He functioned for six or seven years as a Delegate and President of the organization until he could no longer abide the attitudes he faced. During those years he saw the Brentwood Teachers Association (BTA), become a member of the New York State United Teachers (NYSUT) and join forces with the American Federation of Teachers (AFT). Membership attitudes by that time had changed sufficiently to make union membership possible. The advantages had become obvious; ie., administrative rights to do whatever they wanted to do, indiscriminate ways in which they could deny tenure, walk into your classroom unannounced, no guidelines regarding observations, and of course there was salary negotiation. An annual ten thousand dollar per year salary was still a distant dream but the Country and NY State had begun to change its outlook as had public support for teachers rights.
Until the moment he became union President, the position had been an unpaid designation. It was not until after he left office that the Presidency of BTA became a remunerated full time position. During prior administrations the BTA had rented Office space in the basement of Herrick's Real Estate. Once Nick arrived the BTA had a lawyer on retainer and moved its office to a space on the corner of Brentwood Road where the Brentwood Market is located.
Prior to his being elected President of the BTA and upon his arrival in 1963 Charlie Grey had been President of the organization followed by Bob Farina and David Martz who was herself, succeeded by Shirley Seiden. As Nick was forming his Executive Board, Jack Zuckerman had expressed interest in becoming part of the team. Nick made him Chairman of the Grievance Committee and that was how he first became involved with the Union. Everyone involved had participated up to that time on a totally voluntary basis. The only time membership dues had been expended for benefit of members of the executive board was during the two or three Executive Dinners per year thanking them for their service to the union.
Once Nick left the position the Office relocated to Vanderbilt Motor Pkwy. Following Nick, Robert Farina came back and Nick served as Vice President. After Bob left Jack Zuckerman became President of the BTA. The year Nick was still in office he used the union lawyer effectively during negotiations and to avoid a strike during Alfred Miller's Principalship at the High School. Nick thought the Board was being hard nosed and believed he had used the attorney effectively. It was the beginning that year of securing life insurance for members, as well as Dental Insurance
Nick had been opposed to the behind the scene deals he had been warned about so routinely a part of the front row posturing that took place while actions he did not approve of were going on behind the scenes. He acknowledged that the role of unions has remained essential for the sake of working people even as support by the general public for organized labor has waned and union membership has declined in spite of the need for strengthening them. All in all, when asked he said he has never been physically afraid for himself working in Brentwood. He was interviewed on July 22, 1999. Following his retirement from the District in June of 1993 he did nothing for a short time until deciding to take a position with the Internal Revenue Service. He stopped working there one year prior to his interview.
His last assignment had been to teach 11th Grade American History and teach the twelfth Grade Social Studies Curriculum that included Economics and Consumer Education which he particularly enjoyed.
As we concluded our conversation Nick named some of the people he remembered working with when he began teaching in Brentwood. He recalled Valerie Youle, Donna Raybine, Jack Warner, & Amy Leftenant at North Jr High. Also, just the day before, he had met with a group calling themselves the Writers Group of which he is an active member. They've been documenting portions of their accounts teaching in Brentwood. He has also been attending meetings of a Group known as Retirees of Brentwood Schools (ROBS), all of whom have been extending their service into the community well past retirement
When asked what he saw himself doing five years from now in 2004 he said he hoped he would still be in good health and most likely doing some sort of voluntary service yet at that moment wasn't sure what he might decide to do with his time remaining.

---
You can also view any of the past interviews by visiting
History Project Interview Archives
View May 8, 2015 History Project Celebration Photo Album