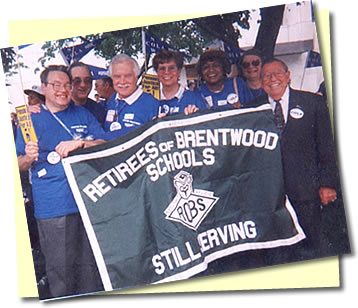 Become a Member and Join ROBS Now!
On October 30, 1991 a group people got together to discuss forming an association. The working title of this organization was "Retired Teachers of Brentwood. Those who gathered were Dot and Jack Zuckerman, Millie Eisenberg, Edy Filosa, June Dawson, Maria DiTucci, Elmon Kazandjian, Rhoda Oser, Ruth McCalla, May Moller, Frank Lerche and Lilian Masten, who designed the owl logo.
On March 4, 1992, the first official meeting was held with the ratification of the Constitution and election of officers.
The first Executive Board: Dorothy Zuckerman, President; Rhoda Stamler, Vice President; Christin Veech, Secretary; Harriet Pepine, Treasurer; Mary Ruffino, Newsletter; Miriam Massucci, Legislation and Political Action and Donna Ragonese, Archivist.
The name "Retirees of Brentwood Schools" was officially adopted. In March 1992, ROBS was recognized by and affiliated with the BTA/BCA.

The overall purpose of the Retirees of Brentwood Schools is as follows:
1. To promote the best interest and welfare of Brentwood Retirees.
2. To provide information regarding relevant local, state and national affairs.
3. To promote mutual assistance and cooperation with other organizations with which it is associated.
4. To promote the aims and objectives of the New York State United Teachers and its national affiliates.
5. To promote social interaction among Brentwood Retirees.
6. To elect delegates to affiliated organizations.