RESTORATION OF 1850'S SCHOOLHOUSE
POSTED 4/1/18
Congratulations to our school district and big thanks to our colleague, Ellen Edelstein, President of the Historical Society, for the restoration of Brentwood's oldest school house. The Brentwood Historical Society is working to preserve the octagonal school built by residents of Modern Times, a utopian settlement that existed before the Civil War. The octagonal schoolhouse is listed on the National Register of Historic Places.
For the full story, please read the following article that appeared in
Newsday
on Saturday, March 24, 2018.
"Restoration to restart on 1850s schoolhouse in Brentwood"
---
A NOTE FROM NICK
POSTED 4/1/18
Our next General Meeting of the year will be held on Friday, April 6th at 10AM at the Brentwood Library. It is also that time of year when we are collecting donations for our annual Scholarship Fund. If you would like to contribute (any amount is greatly appreciated) make out your check to ROBS and on the MEMO line write Scholarship. Hope to see you at our General Meeting.
Nick
---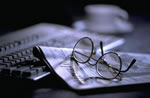 View the
In Memoriam
page with the list of our Brentwood colleagues who have passed away. This list will be updated on a yearly basis.
Check out the Famous People and Events on that special day in April see what else happened! Historical People and Events for April
April 2018 Holidays, Bizarre, Unique, Special Days
Bizarre and Unique Holidays in April
All About April
April in History
Why did we do it?
What was our purpose in taking on such an open ended "History Project"; for which we evolved a script of questions and got answers from over 150 subjects for two decades?
We couldn't answer the question in 1994 when people would ask "What are you going to do with the interviews?" All we could say was that for educational purposes we had to document our record now or lose the chance to preserve so many poignant accounts, funny stories and touching tales told by exemplary educators. We knew these dedicated public servants might shortly, for reasons yet unknown, be leaving Brentwood for good.
So, we decided to let time sort out the details. We began scheduling appointments. W
e asked questions and listened saving for generations the essence of what it meant to have been an educator or employed, in this large public school system during the second half of the 20th century. Brentwood remains an exemplar to all others; a diverse microcosm of America reflecting 124 districts on Long Island while simultaneously resembling thousands across the U.S. We've accomplished something here to be proud of. Whether we were interviewed or not, ours is a claim of service that few professionals in the State of New York or elsewhere have positioned themselves to share in the way we have.
INITIALLY the practice of sitting with a subject for an hour and giving them a hundred percent focused attention seemed somewhat daunting to a number of friends and colleagues. So much so in fact that many declined our repeated invitations to speak with us as they left careers or retired from full employment. Despite all assurances that we were not about investigative journalism or invading privacy, they deferred. Now, twenty years after we began, some are saying they may be ready. "Better late than never" we say. However, to all among you who were willing to share not only your classroom experiences and personal stories, but precious memories from your lives along with your fondest hopes for the future, we say "Thanks". Thanks for allowing us to continue the process by paying it forward as we share these interviews with the Brentwood community and countless professionals and researchers near and far. Through an acceptance of ROBS offer of collaboration with Archivist Dr. Geri Solomon and The Long Island Studies Institute at Hofstra University our History Project lives on in academia as well as in the collection of the Brentwood Public Library, thanks to Director, Thomas A. Tarantowicz.
Enjoy unlimited visits to www.robsny.org where you can watch and listen to segments from featured Interviews in the ROBS History Project Section on our Announcements Page each month. Return here to listen and learn again and again.
---
THIS MONTH'S FEATURED HISTORY PROJECT
INTERVIEW:
Dr. Lou Naninni
Administrator
March 2, 2006

Twelve years ago this month (03.02.18) Dr. Luigi Naninni, former Brentwood Schools District Principal generously provided us with a first person account of his life and tenure in office from 1966 to 1972, 34 years after his retirement as the first Superintendent of Brentwood Schools. He followed the inspired tenure of Eugene Hoyt and preceded the leadership example of G. Guy DiPietro. Born in Jersey City, N.J., he acquired the name Luigi at birth after his paternal grandfather who lived with the family. He was known by Lou as a child to distinguish between them. His grandmother came here during the Depression at the age of 50. Italy was also seeing hard times. The reason she came was because the Naninni's had a farm with a boarding house in Cornwall, N.Y., fifty miles north of NYC. There they raised chickens and cows and edibles. She'd been born in a little town near Florence Italy and lived to be 106. She met her husband in that small town as they were both growing up. When she arrived here they met again on Ellis Island and were married in New York Harbor. His father had come to the US sometime earlier to avoid military service in Italy and once here decided to stay, like so many other young men in similar situations. Lou's son's name is Victor. He was named after his grandfather.
The reason our former Superintendent went into Social Studies was because during those years he saw how many mistakes had been made by the people in leadership positions and he imagined that through the study of history he could learn to avoid and correct many of the mistakes that had been made. His goal was to make this world a better place and that was at a time before welfare and social assistance existed. High unemployment was a serious problem when FDR offered families with a mortgaged farm an ability to keep their property if only they could make interest payments on their debt.
Lou got married while still in the US Army and while he was stationed in Texas. He thought he would be there permanently and judged their relationship to be solid. After D Day he came home to New York on furlough and told his parents about this lovely girl with whom he was serious. Knowing that the war was drawing to a close he made the decision to marry her on July 23, 1944. Shortly thereafter in September of that year he got orders to go overseas and he didn't see her for another two years. When he returned, with the help of the G.I. Bill, he pursued his education and attained a Doctorate from Columbia University
When first he retired from Brentwood, he went back to Cornwall NY because his mother was still there and she wasn't well. He decided to take a job with BOCES and with his pension and his BOCES income he was able to build a house on an acre of land on a hill top thinking his family would join him there. One daughter Susan, married a history teacher from Lindenhurst. Another went to Oneonta. He thought she would eventually join him but she fell in love with her professor who then went to work at Dowling.. His son went to Colgate and when he finished, went to dental school at NYU. Victor went to LIJ for a residency in Oral Surgery and took a position in Mineola. "There we are" he said, "with our big house up there and all our kids from whom we have six grandchildren down here". So they decided, to move back to Holbrook, which they did in 1996, to a gated community called The Colony. After his wife died of a fall when she broke her hip in September and died in January. Lou moved to Jefferson's Ferry, a residency community in South Setauket, where he lives today having surpassed his one hundredth birthday.
Dr. Lou Naninni
One of his earliest memories was when Lou was about 3 years old going with his father to get a job in a cigar factory. His mother had been a typical farmer's wife from morning to night. Lou worked with his family for many years. His father went into construction and always worked hard in support of his family. Lou would like to have become a physician but when his father told him that he could not afford to put him through Medical School, he suggested he do the best he could with a four year degree. He was attending Columbia and majoring in History. He put himself through Graduate School and attained a Doctorate in History by the end of the 1930's. This was (his words), not exactly the degree to help you find work at the beginning of a Great Depression.
His first job after Columbia was at Half Hollow Hills as High School Principal. He next moved with his entire family to Schenectady for two years and then out to Longwood. Gordon Heights presented him with a unique challenge. He resolved it only to be confronted by yet another when Yaphank's local history, presented its own kind of dilemma. Bedford Hills in Westchester offered an unexpected opportunity which he declined when an opening occurred in Brentwood presenting itself while still at Columbia. Leigh Stewart was instrumental in bringing Lou to Brentwood.
He decided to make unreasonable demands to their offer, to satisfy a family push back and to avoid another move. Unexpectedly, all his demands were met requiring him to move the family anyway. The fact that Brentwood was a different kind of district had been an attraction for Dr. Naninni. Rapid growth and the sheer numbers and variety of students made it a challenge. The quality of teacher there was a big plus. Most disturbing was the existence of 14 elementary schools with only one library. He found that situation unacceptable. The number of "bosses": in the form of GIS's (General Instructional Supervisors) was a problem and he announced he would be changing it, which he did. He worked with Art Breiger to improve student performance to enhance programs of individualized instruction for Hispanic and Puerto Rican arrivals to Brentwood using available federal funds until the monies ran out. Dr Hoyt's emphasis upon quality of education and curriculum innovation was another plus for Dr Naninni. His purpose was not to self promote but to do the best he could for the school district. He knew Brentwood was not Manhasset or Great Neck. He and James Lynch, Board of Education President, supported a bond issue to construct a new high school off Crooked Hill Road near Suffolk Community College to accommodate the increasing numbers of students. The bond issue was defeated because a Transportation bond issue had been put up to attract the highest bidder and when a Connecticut company won the bid many local residents who had previously been bus drivers lost their jobs and voted the measure down. A proposed high school on the grounds of Pilgrim State Psychiatric Hospital and extensive conversations surrounding it were recalled. We discussed the first NYSUT union contract with the District and the role Dave Martz and Guy DiPietro both played. A teacher strike was threatened while the Superintendent was attending a two day conference and a board member ignored his recommendation re/ choice of a snow day upsetting the settlement. As soon as he returned the issue was resolved and the problematic Board Member stepped aside.
Dr. Lou Naninni will be remembered as a dedicated public servant and transitional figure bridging the missions of Eugene Hoyt and G. Guy DiPietro in the interest of generations of parents and children of the District. He was inspired when he arrived by the Brentwood he found and spoke in superlatives of its students and teachers at the time of his departure.
---
You can also view any of the past interviews by visiting
History Project Interview Archives
View May 8, 2015 History Project Celebration Photo Album