"Executive Board Meeting"
SEPTEMBER 18, 2008
10:00 AM
NYSUT Office
See other meeting dates

"RC 21 General Meeting " SEPTEMBER 24, 2008
10:00 AM
West Islip Library
"RC 21 Election Phone Bank"
OCTOBER 7 & 14, 2008
10:00 AM - 3:00 PM
NYSUT Office

---
POSTED 9/7/08:

ANNOUNCEMENT
Eleanor Steffen Lipkins, a retired teacher who worked in the Art Department of the Brentwood High School, is announcing a showing of her new works at The Doghouse Gallery in Woodstock. See more details...

Below is a 1970 Brentwood High School photo taken of Ellie


.
---
POSTED
9/15/08

ROBS was notified this week by Robert Finnegan, Islip Town Historian that two of the historic markers he promised the History Committee and the Brentwood School District have been delivered and permanently installed. The photos provide locations.

The third has not yet been installed at the site of the octagonal building or "Dame House," on Brentwood Road.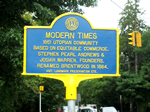 View all the Photos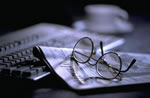 Marilyn DePlaza
POSTED 9/23/08
GOOD NEWS FROM GRACE FISHENFELD


Grace and Bernie Fishenfeld wanted to share this good news about their granddaughter who won the Eisenhower Park's "Reach for the StarsTeenTalent Search". Grace taught art in Brentwood High School.
Read Article
---
POSTED 9/30/08
SAD SHARING
It is with deep sadness that I inform you of my husband Morty's passing on August 2nd after a long illness. He will be sorely missed by all who knew him.

Esther Ostfeld
---